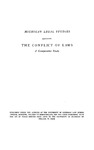 Files
Download Front Matter (72 KB)
Download Introductory Note (150 KB)
Download Table of Contents (361 KB)
Download List of Abbreviations (400 KB)
Download Nine: Special Obligations; 34. Money Loans and Deposits (478 KB)
Download 35. Special Problems of Money Obligations (1.1 MB)
Download 36. Sales of Movables (852 KB)
Download 37. Sales of Goods: Scope of Rule (886 KB)
Download 38. Sale of Immovables (683 KB)
Download 39. Representation (718 KB)
Download 40. Authority (1.2 MB)
Download 41. Employment and Agency (826 KB)
Download 42. Workmen's Compensation (900 KB)
Download 43. Maritime Transportation of Goods (885 KB)
Download 44. Maritime Carriage of Goods: Comparative Conflicts Law (1.1 MB)
Download 45. Other Transportation Contracts (672 KB)
Download 46. Insurance (1.1 MB)
Download 47. Suretyship (566 KB)
Download 48. Extracontractual Obligations (745 KB)
Download Ten: Modification and Discharge of Obligations; 49. Voluntary Assignment of Simple Debts (1.7 MB)
Download 50. Other Transfers of Simple Debts (788 KB)
Download 51. Setoff and Counterclaim (Compensation) (538 KB)
Download 52. Statutes of Limitations (682 KB)
Download 53. Statutes of Limitation: Comparative Conflicts Law (1012 KB)
Download Bibliography (487 KB)
Download Table of Statutes and International Conventions (395 KB)
Download Table of Anglo-American Cases (842 KB)
Download Corrections to Volumes One and Two (33 KB)
Download Index (551 KB)
Description
Among the multitude of conflicts principles that, according to various claims, should determine the law applicable to all contracts, only two have resisted the test of critical analysis. These, indeed, form an adequate groundwork. First, the freedom of parties to choose the law applicable to their contract must be recognized as a general rule without petty restraint. Second, in the absence of such agreement, a contract should be governed by the law most closely connected with its characteristic feature.
The first proposition is essential to the second. To deny party autonomy means rigid conflicts rules created by some superior authority. A scholastic doctrine may invest the law of the place of contracting with ineluctable force; a state may forbid stipulations for a foreign law. However, our modest task requires but a reasonable choice of law advisable for average use by courts and legislatures. This cannot aspire to ascertain more than subsidiary rules. It is not possible to achieve anything practical by attempting to coerce the parties into an inexorable law of our creation. This conception is perfectly consistent with a considered regard to the large significance of public law at the present time. It even allows and facilitates a line of thought leading to the subsidiary application of the private law of that state which, by its administrative law, preponderantly regulates certain kinds of business. This will appear in such contracts as maritime carriage of goods, employment, and msurance.
Publisher
The University of Michigan Press, Callaghan & Company
Keywords
Choice of laws, Party autonomy, Conflicts rules, Obligations, Modifications, Discharges, Sales, Workers compensation, Movables, Immovables, Lex loci, Maritime transportation, Suretyship
Disciplines
Commercial Law | Comparative and Foreign Law | Conflict of Laws | Contracts
Recommended Citation
Rabel, Ernst, The Conflict of Laws: A Comparative Study. Vol. 3. Ann Arbor: The University of Michigan Press, 1950.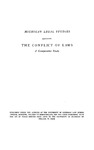 COinS