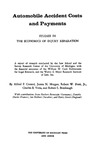 Files
Download Front Matter (31 KB)
Download Table of Contents (492 KB)
Download Introduction (595 KB)
Download Part I Introduction (23 KB)
Download 1. Systems of Reparation for Injury, Illness, and Death (1.6 MB)
Download 2. Functions of Reparation Systems (1.1 MB)
Download 3. Estimating the Social Value of a Reparation System, with Particular Attention to Auto Injury Reparation (709 KB)
Download Part II Introduction (194 KB)
Download 4. Losses and Reparation Arising Out of Michigan Automobile Accidents Involving Personal Injury (567 KB)
Download 5. The Serious Injury Cases (602 KB)
Download 6. Tort Settlements in the Serious Injury Cases (1.6 MB)
Download 7. Automobile Injury Cases in the Courts (561 KB)
Download 8. Attitudes and Opinions of Claimants and Defendants (1.9 MB)
Download 9. Survey Methods: A Description (1.9 MB)
Download 10. Survey Methods: An Evaluation (914 KB)
Download Part III Introduction (111 KB)
Download 11. Automobile Injury Reparation in England (630 KB)
Download 12. Reparation for Personal Injuries in Sweden (548 KB)
Download 13. Sources of Reparation for Automobile Accident Victims in France (431 KB)
Download 14. Reparation for Traffic Injuries in West Germany (505 KB)
Download Appendix A & B (551 KB)
Download Index (180 KB)
Description
The report is presented as a pool of data which will serve many purposes. First of all, the report furnishes a perspective on the largeness and the smallness of the reparation process, and of its many parts. Second, the report supplies much more specific information than has ever before been available on many points, such as the high or low level of reparation in relation to losses; the number of people who get paid, and those who receive nothing; the levels of legal expense, including attorneys' fees. Third, it will furnish a guide for future research directed to narrower questions, by disclosing what are the kinds and approximate dimensions of the phenomena which call for further examination. In order to suggest what sorts of information the report contains, and what conclusions may be drawn from it, a few of its findings are sketched in the following paragraphs. These findings have been selected from among many others as the ones most likely to be meaningful in the eyes of readers of many different kinds. Most of this summary relates to the survey of Michigan automobile accidents, which forms the major portion of this study.
Publisher
University of Michigan Press
Keywords
Liability for traffic accidents, University of Michigan Law School, University of Michigan Survey Research Center, Reparations, Losses, Auto injuries, Surveys, Personal injuries, Traffic injuries
Disciplines
Insurance Law | Legal Writing and Research | Torts
Recommended Citation
Conard, Alfred, et al. Automobile Accident Costs and Payments: Studies in the Economics of Injury Reparation. Ann Arbor: University of Michigan Press, 1964.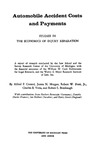 COinS