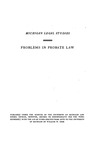 Files
Download Front Matter (1.9 MB)
Download Preface (1.6 MB)
Download Table of Contents (1.9 MB)
Download Table of Cases (1.7 MB)
Download Part One: Model Probate Code (1.5 MB)
Download Introduction (1.9 MB)
Download Contents of Model Probate Code (1.6 MB)
Download Model Probate Code (4.2 MB)
Download Part Two: Appendices to Model Probate Code; Appendix A: Statutory Notes on Various Sections of the Model Probate Code (3.7 MB)
Download Appendix B: Time Schedule (1.6 MB)
Download Part Three: Monographs on Problems in Probate Law; The Organization of the Probate Court in America (4.5 MB)
Download The Administration of a Decedent's Estate as a Proceeding In Rem (3.8 MB)
Download The Venue of Probate and Administration Proceedings (3.3 MB)
Download Dispensing with Administration (4.6 MB)
Download The Function of Will Contests (4.1 MB)
Download Index (1.9 MB)
Description
The publication of the Model Probate Code, together with related monographs and appendix notes, serves a dual purpose. It is the report of a committee of the Probate Division of the American Bar Association. It is also the product of a research project carried on by the University of Michigan Law School. Mr. R. G. Patton, in his "Presentation of the Report of the Committee on Model Probate Code," printed elsewhere in this volume, has provided an appropriate preface for this publication in its first aspect.
Publisher
University of Michigan Press, Callaghan & Company
Keywords
Model codes, Probate, Distributions, Heirs, Wills, Bonds, Probate courts, Decedents, Administration, Settlements, American Bar Association
Disciplines
Courts | Estates and Trusts | Legislation | Property Law and Real Estate
Recommended Citation
Simes, Lewis M. Problems in Probate Law. P. E. Basye, co-author. Michigan Legal Studies. Ann Arbor: University of Michigan Press, 1946.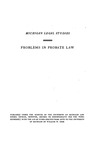 COinS