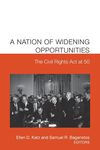 Files
Download Front Matter (345 KB)
Download Chapter 1: Performative Citizenship in the Civil Rights and Immigrant Rights Movements by Kathryn Abrams (5.6 MB)
Download Chapter 2: Discriminatory Animus by Cary Franklin (3.2 MB)
Download Chapter 3: Civil Rights 3.0 by Nan D. Hunter (4.7 MB)
Download Chapter 4: Toward a Jurisprudence of the Civil Rights Acts by Robin L. West (6.8 MB)
Download Chapter 5: On Class-Not-Race by Samuel R. Bagenstos (2.6 MB)
Download Chapter 6: The Diversity Feedback Loop by Patrick Shin, Devon Carbado, and Mitu Gulati (4.7 MB)
Download Chapter 7: Is the Future of Affirmative Action Race Neutral? by Brian T. Fitzpatrick (4.1 MB)
Download Chapter 8: The Judicial Repeal of the Johnson/Kennedy Administration's "Signature" Achievement - Judge Nancy Gertner (Ret.) (3.6 MB)
Download Chapter 9: Taking Seriously Title VII's "Floor, Not a Ceiling" Invitation by Craig Gurian (5.1 MB)
Download Chapter 10: Leveraging Antidiscrimination by Olatunde Johnson (4.8 MB)
Download Chapter 11: A Signal or a Silo? Title VII's Unexpected Hegemony by Sophia Z. Lee (3.2 MB)
Download Chapter 12: Labor Unions and Title VII: A Bit Player at the Creation Looks Back by Theodore J. St. Antoine (2.5 MB)
Download Chapter 13: Justice Ginsburg's Umbrella by Ellen D. Katz (3.5 MB)
Download Chapter 14: Disparate Impact Abroad by Julie Suk (4.9 MB)
Download List of Contributors (149 KB)
Description
The Civil Rights Act of 1964 was an extraordinary achievement of law, politics, and human rights. On the fiftieth anniversary of the Act's passage, it is appropriate to reflect on the successes and failures of the civil rights project reflected in the statute, as well as on its future directions. This volume represents an attempt to assess the Civil Rights Act's legacy.
On October 11, 2013, a diverse group of civil rights scholars met at the University of Michigan Law School in Ann Arbor to assess the interpretation, development, and administration of civil rights law in the five decades since President Lyndon Baines Johnson signed the Civil Rights Act. In the volume that follows, readers will find edited versions of the papers that these scholars presented, enriched by our lively discussions at and after the conference. We hope that the essays in this volume will contribute to the continuing debates regarding the civil rights project in the United States and the world.
Publisher
Michigan Publishing
Keywords
Civil Rights Act, Discrimination, Conferences, Citizenship, Race and law, Racial discrimination, Diversity, Affirmative action, African Americans, United States Supreme Court, Johnson Administration, Title VII, Disparate Impact, Ginsburg (Ruth Bader), Labor Unions, Minorities, Constitutional violations, Presidents
Disciplines
Civil Rights and Discrimination | Constitutional Law | Law and Race | Supreme Court of the United States
Creative Commons License


This work is licensed under a Creative Commons Attribution-Noncommercial-No Derivative Works 3.0 License.
Recommended Citation
Katz, Ellen D., co-editor. A Nation of Widening Opportunities? The Civil Rights Act at Fifty. S. R. Bagenstos, co-editor. Ann Arbor: Michigan Publishing, 2015.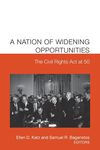 COinS